LZ Sunday Paper Newsletter: The "Black-Eyed Jack" Edition

subscribe to this list | update subscription preferences
View this email in your browser
Dateline: 2/21/21
Dear Readers,
As we come into delayed Awards Season, you might find yourself in a crush of Covid-delayed decision making. Here's trio of female buddy movies (of a sort) for you to check out. And to match the trio of films I am giving each a three word review.
Never, Rarely, Sometimes, Always
Important. High School.
Odd ducks. Bubbles.
Barb & Star Go To Vista Del Mar
Snap. Crackle. Pop.
Time to get going on this week's hand-picked list of great reads today! The week's most important news by and about women, from politics to pop culture, with a spin through business, science, education, tech, and anything else that strikes this editor's fancy.
Send me your recommendations for any articles, photos, or videos you think I need to see -right here.
If you are not already, click here to become a subscriber.
Follow me:
Share the link to The Sunday Paper if you think someone you know would enjoy it.

[](http://twitter.com/intent/tweet?text=LZ+Sunday+Paper+Newsletter%3A+The+%22Black-Eyed+Jack%22+Edition: https%3A%2F%2Fmailchi.mp%2Fthelzsundaypaper.com%2Fblackeyedjack)
[Tweet](http://twitter.com/intent/tweet?text=LZ+Sunday+Paper+Newsletter%3A+The+%22Black-Eyed+Jack%22+Edition: https%3A%2F%2Fmailchi.mp%2Fthelzsundaypaper.com%2Fblackeyedjack)

Good Lord it is the last week of February. Mask up, vax up!
LZ
THE PIC(K) OF THE WEEK: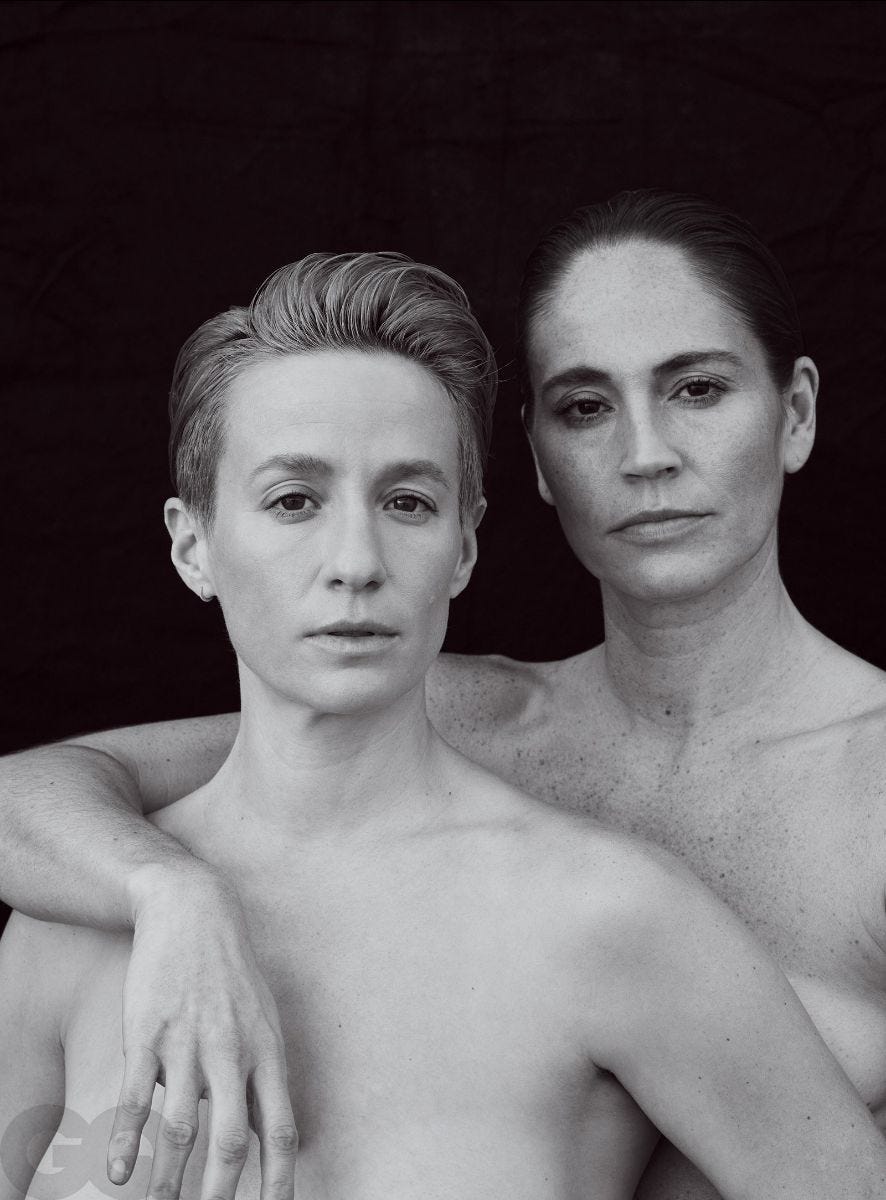 Modern Lovers: Megan Rapinoe and Sue Byrd Are Goals via GQ
Katie Porter, One Of Congress' Only Single Moms, Has A Plan To Help Caregivers via The Nineteenth
The Life And Death Of A Woman Hater via The New York Times
Behind Disney's Firing Of 'Madalorian' Star Gina Carano via The Hollywood Reporter
BUSINESS & TECH:
Queens Gaming Collective Raises 1.5M For Women-Led Gaming Lifestyle Brand via VentureBeat
When A Merperson Is A Merman via What Would Jennifer Do?
THE MILITARIZED ZONE:
'I Found The Video Deeply Disturbing:' Here's What We Know About The Viral Video Of A Female Marine Claiming That Her Alleged Perpetrator Will Be Allowed To Stay In The Corps via Marine Corps Times
Promotions For Female Generals Were Delayed Over Fears Of Trump's Reaction via The New York Times
CAMPUS CLIMATE:
As More Women Enter Science, It's Time To Redefine Mentorship via Wired
SCIENCE & HEALTH:
She Thought She Had Breast Cancer. It Was Actually A Harmless Covid Vaccine Side Effect via Elle
THE ARTS & POP CULTURE:
'Allen v. Farrow' Places Dylan Farrow At The Center Of Her Own Story via Vulture
Netflix and Anna Delvey: The Race To Secure The Story Of New York's 'Fake Heiress' via The BBC
Extremely Online and Wildly Out Of Control via The Atlantic
'Consent,' A Memoir That Shook France, Recalls Living A 'Perverse Nightmare' via The New York Times
During Lockdown, I've Found Solace In Online Recipe Comments via The Guardian
In The Company Of Women: The Pandemic Void Only My Girlfriends Can Fill via Cognoscenti via WBUR
My Week In Convulsions via Magic and Loss
THE SPORTS REPORT:
Naomi Osaka, The Most Thrilling Athlete Of Her Generation, Wins The Australian Open via The New Yorker
NASCAR's First Arab American Female Driver Just Made Her Debut via Sport Bible
MISCELLANY:
Something Bit My Butt:' Alaska Woman Using Outhouse Attacked By Bear via The Guardian
OBITUARY:
Kathleen Ham, Who Met Her Rapist Twice In Court, Dies At 73 via The New York Times
AND WHAT'S NOT TO LOVE ABOUT…?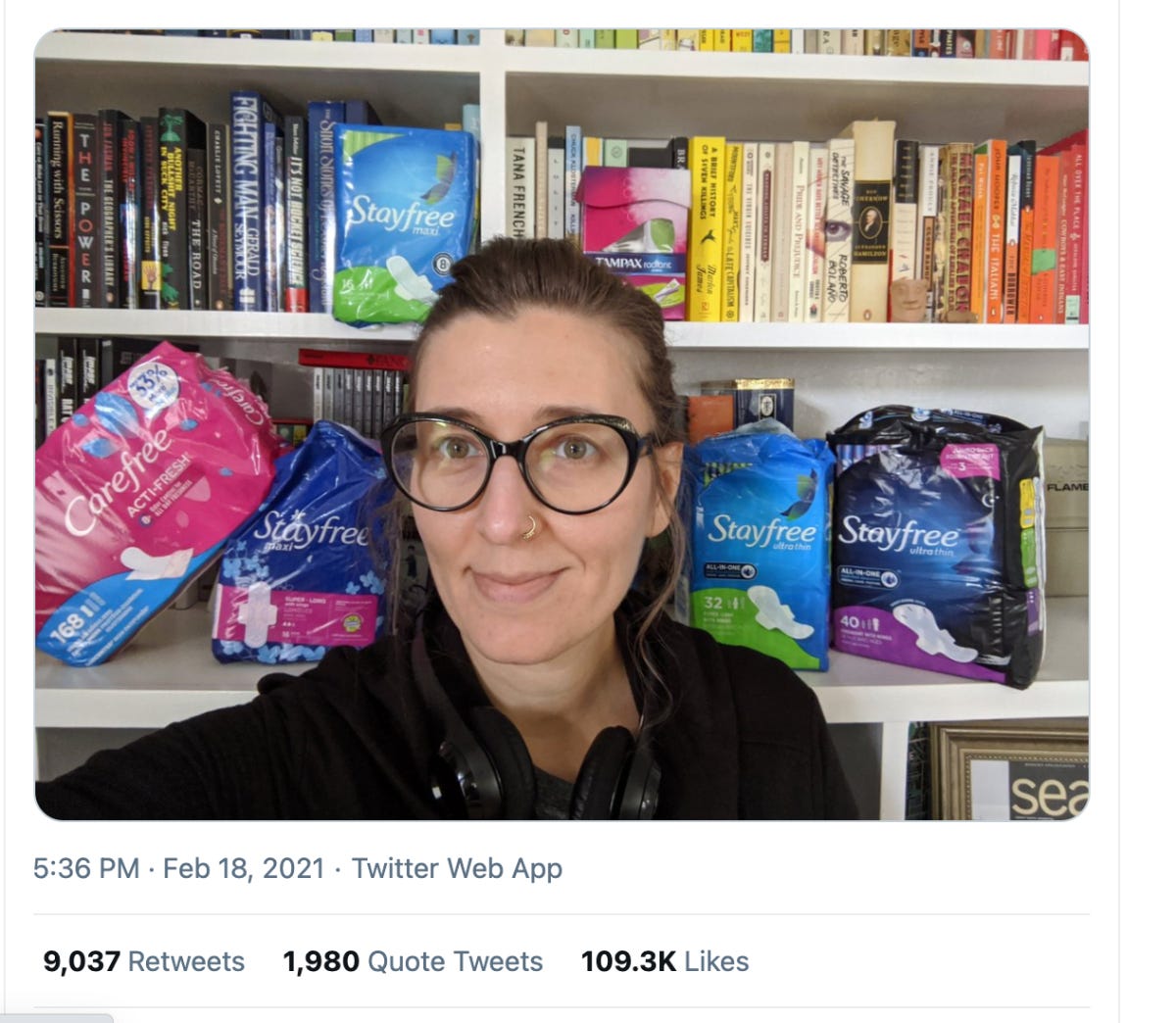 I Decided to Display Menstrual Products The Way Lauren Boebert Does Guns…via The Everywhereist via Twitter
The LZ Sunday Paper™ launched at the dawn of 2014. We expose and recirculate interesting content that is about, and frequently by, women in business, with a dose of ultra-relevant culture. We think that culture comes high and low, not much in between. Our audience is vast and not gender-driven. Every week we expect to deliver at least one good laugh. Send suggestions, clips, or names of people you think might enjoy this to LZSundayPaper@gmail.com.
subscribe to this list update subscription preferences
This email was sent to [<>](mailto:<>)
why did I get this? unsubscribe from this list update subscription preferences
The LZ Sunday Paper · 70 East Tenth Street · New York, NY 10003 · USA